Anno Uno Prize to Helena Ignez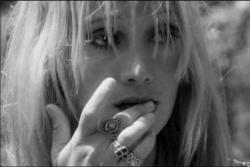 Known as "the Muse of Cinema Novo", Helena Ignez was born in Salvador de Bahia (Brazil) in 1942, where she studies Dramatic Art at the Universidade Federal da Bahia. She makes her acting debut under the direction of the great film director Eros Martin Gonçalves, performing in plays such as Sara and Tobias, by Paul Claudel, and Oscar Wilde's Salomé. 1959 is the year of her big-screen debut with her performance in Glauber Rocha's first film, Patìo. Rocha will later become Ignez' husband. At this point her artistic career gravitates towards theater and cinema, she's highly praised and awarded at the Berlin Film Festival for her role in Joaquim Pedro de Andrade's O Padre e o Moça (The Priest and The Girl) (1967) - to be shown during I Mille Occhi - and many prizes as best actress

 

for her performance in O Bandido da Luz Vermelha (The Red Light Bandit) and Mulher de Todos (The Woman of Everyone) by Rogerìo Sganzerla (her second husband). Together with Sganzerla and film director Julio Bressane, they created a production company named Belair, which helped the diffusion of avant-garde films in Brazil. Between 2007 and 2008 Helena Ignez directs her first feature film, Cançao de Baal," a musical and anthropophagic fable" - loosely based upon Bertol Brecht's play Der Boese Ball der asoziale (1918-1955) - for which she will be awarded many prizes, among them the Anno Uno Prize 2009. Below the motivation behind this year's prize.